Community centres are designated as inclusive meeting spaces within neighbourhoods, where individuals of all backgrounds are welcomed. These centres celebrate the diverse makeup of their respective neighbourhoods and encourage residents to contribute their skills to both the centre's operations and the broader community, thus fostering a culture of volunteerism. In the Bruges area, there are 17 such community centres overseen by project partner Mintus. One of Mintus' primary objectives is to facilitate aging in place for the elderly population.
The mission of the Living Lab Bruges is to provide customized, nutritious meals for individuals aged 65 and above. One of the initiatives within this living lab centres on the goal of familiarizing more individuals with the operations of community centres. The ultimate aim was to enhance outreach and support for this demographic across various levels of health and well-being.
Research and surveys have revealed that a vulnerable segment of elderly individuals still face challenges in accessing community centres. These are seniors who are at risk of experiencing social isolation. It becomes evident that many perceive the entry barrier as too high. Those who are on their own do not feel at ease having a meal at a community centre. To mitigate this obstacle, it is crucial for seniors to first become familiar with the community centres in their vicinity and the activities that take place there. Once they gain exposure to this environment, the likelihood of them coming for a nutritious meal becomes more feasible.
The Living Lab Bruges explored avenues for bringing this vulnerable group to community centres. The strategy of the buddy system was employed. Individuals who are already active in community centre activities extended invitations to those who are not yet acquainted with them. This with a focus on people who do not find their way to the community centre but still have a need to meet other people. Through brochures, posters, and interactions during activities, visitors to the community centres were introduced to the concept and encouraged to participate. In June, the first buddy event was organized, offering participants an incentive if they brought someone new to the community centre on that day. This activity was closely coordinated with the 'Den Heerd' community centre, which provided all necessary amenities. Following feedback gathered from the older population, a second buddy event was organized, tied to a popular activity—Bingo. Those who brought a new participant to this Bingo activity were granted free entry.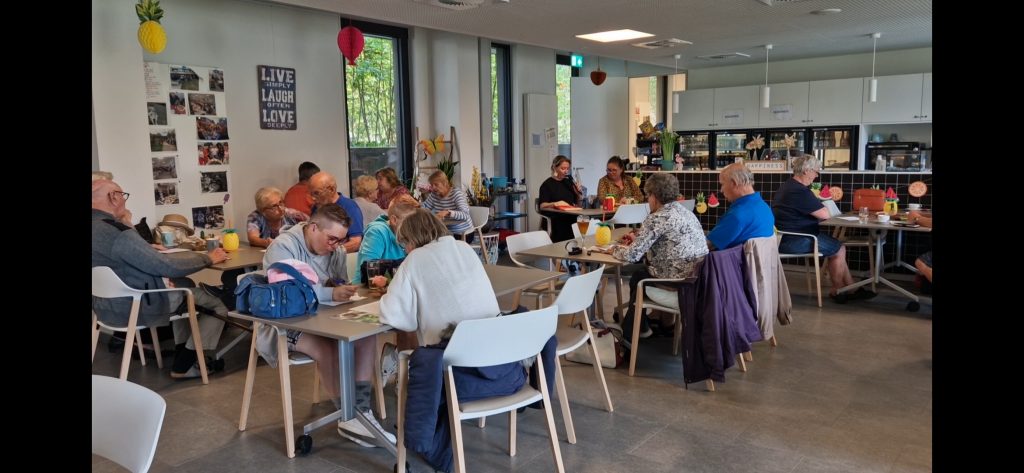 These initiatives proved to be a 'modest success'. Numerous seniors attended the buddy sessions and even brought along new participants! The principle of "people attract people", especially in connection with inclusive activities, was evident. Through this approach, the Living Lab Bruges aims to establish enduring activities, motivating an increasing number of individuals to visit community centers!
"Coming together is a beginning. Keeping together is progress. Working together is success"
– Henry Ford