Food for Iași Living Lab also has an essential research component. The results of research undertaken in Iași county and published as the first scientific paper written in the Cities2030 project by Food for Iasi Living Lab were presented within the Symposium of Agricultural Economics and Rural Anthropology.
The paper is Effects of COVID-19 pandemic on sustainable consumption patterns. Evidence from Iasi County, Romania, authors: Ioan Sebastian Brumă, Simona-Roxana Ulman, Lucian Tanasă, Cristina Cautisanu. The article was accepted for publishing by Frontiers in Sustainable Food Systems, special issue Agro-Food Systems, Citizen Science and the Sustainability Transition Volume II, available here (open access): https://www.frontiersin.org/articles/10.3389/fsufs.2022.1050977/abstract
The public presentation was made by Simona-Roxana Ulman.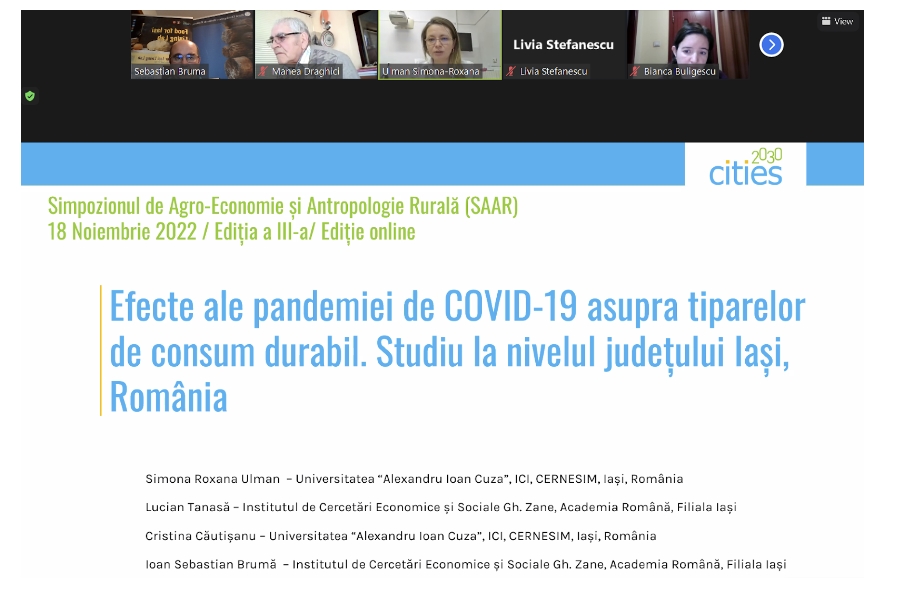 Abstract: Considering the broad behavior strategies towards sustainable food consumption, conversion to this type of intake became a relevant objective among the specialists established for attaining sustainability. Consequently, the aim of this study is to observe the main changes of sustainable consumption patterns in terms of these behavior strategies during the COVID-19 pandemic (August 2020), compared to the previous period (November-December 2019), in Iasi County, Romania. The main results obtained showed that: (1) the responsibility of consumers increased with regard to the purchase and waste of fresh vegetables and meat, preferring to buy more often and throw away less during the pandemic; (2) the behavior strategy in terms of organic food seemed to be discouraged in this period; and (3) local food appeared to have increased consumers' support. In addition, the pandemic crisis was shown as a positive driver in the digitalization of the shopping process. Accordingly, the COVID-19 pandemic seemed to have significant effects upon sustainable consumption over short, medium and long run, determining some changes of consumption patterns that could support to a considerable extent the effort of attaining a more sustainable path.
Keywords: sustainable consumption, COVID-19 pandemic, patterns of consumption, waste, organic and local food
The Symposium of Agricultural Economics and Rural Anthropology is organized by: "Gh. Zane" Institute for Economic and Social Research (ICES), Rural Development Research Platform (RDRP), "Gheorghe Ionescu-Șișești" Academy Of Agricultural and Forestry Sciences – Department of Agricultural Economics and Rural Development (ASAS), "Regele Mihai I al României" University of Agricultural Sciences and Veterinary Medicine of Timișoara (USAMVBT).
#Cities2030, #FILL, #FoodForIasiLivingLab, #Iasi, #Romania, #Covid19, #Waste, #PatternsOfConsumption